Do you want to learn how to integrate GA4 into your Shopify account? We will show you how to do just that in this blog post! GA4 is a powerful tool that can help you track and analyze your website's traffic data. By integrating GA4 with your Shopify account, you can get a deeper understanding of how your customers are interacting with your online store. So, let's get started!
Benefits for Google Analytics 4 (GA4)
With automatic alerts from GA4, you can improve your marketing ROI.
Google's machine learning models can help your business get alerts when trends appear in your data.
Make your marketing efforts more successful with GA4's audience data.
Another Google Analytics 4 advantage is the ease with which you may combine your website and app data.
Even if you don't have an app now, GA4 provides a future-proofed solution if you develop one in the future. Aside from syncing your website and app data (and how user journeys are made across the two), GA4 also gives the ability to track user behaviour by funnel stage, such as awareness vs. conversion.
With GA4, you can develop a personalized marketing experience that increases sales.
Keep your marketing strategy ahead with a future-proof design from GA4
The Google Analytics new version's future-proof design is one of the most significant advantages.
With more interest in user privacy and a shift away from cookie-based tracking, analytics platforms like Google Analytics have adapted. That's why the GA4 solution doesn't rely on cookies.
Even though Google will not have all the data, they plan to use accurate models to fill in the gaps. This way, you will still be able to trust the data for marketing and reports.
First Things First
If you already have a GA4 account, please skip this section of the blog and scroll down to " Step-By-Step For How You Create Your Tracking ID in Google Analytics 4 Account."
If you don't have GA4, please refer to one of these blogs, so you are set up for GA4 and return to this blog.
Now that you have your GA4 account set up, let's get your GA4 account intergraded into your Shopify account!
Step-By-Step For How To Implement Google Analytics 4 (GA4) Tracking Code In Your Shopify Account
1. Log into your Google Analytics 4 (GA4) Account
2. Click Admin
3. Click Property
4. Then click Data Streams
5. Select your Google Analytics 4 (GA4) property
6. Under Tagging instructions. Click Add new on-page tag and click Google Site Tag (gtag.js)
7. You will find your Global Site Tag (gtag.js). You will copy the Global Site Tag (gtag.js) code.
8. In a separate window, open your Shopify account
9. Click Online Store, Select Themes, click Actions, then select Edit Code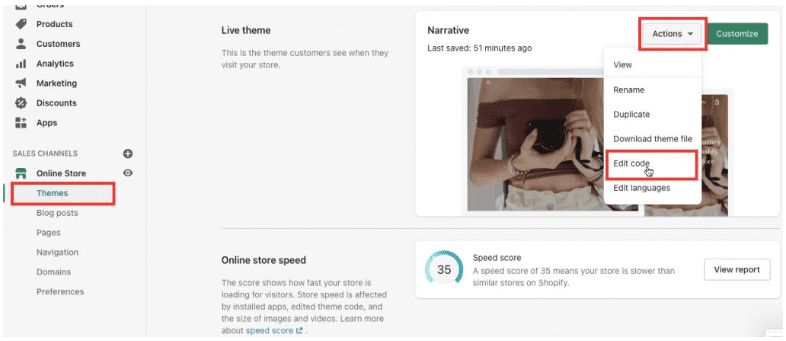 10. After selecting Edit Code, ensure you have selected (/)theme.liquid under Layout.
11. You will then paste the Google Analytics 4 (GA4) Global Site Tag code underneath <head>; if you do not paste the Global Site Tag from your GA4 Property, it won't work.
12. Finally, click save when you're done.
How to Realtime Report Data in Google Analytics 4
In real-time, you can see how people use your app or website in real-time. The cards show you how people enter your conversion funnel and behave once they're in it.
The number of people who used the website in the last 30 minutes

Where your users come from

People who use your product or service are your users.

Some people who visit your website might be interested in the content on a particular page, while others might be more interested in content posted by other users. You can track this by looking at how much each user engages with different types of content.

What events are associated with which other events

Which conversions do they complete
Here's How You Validate data In Google Analytics 4 Realtime Reports
1. Log into your Google Analytics 4 (GA4) account
2. Click Reports (this can be found on the left-hand side)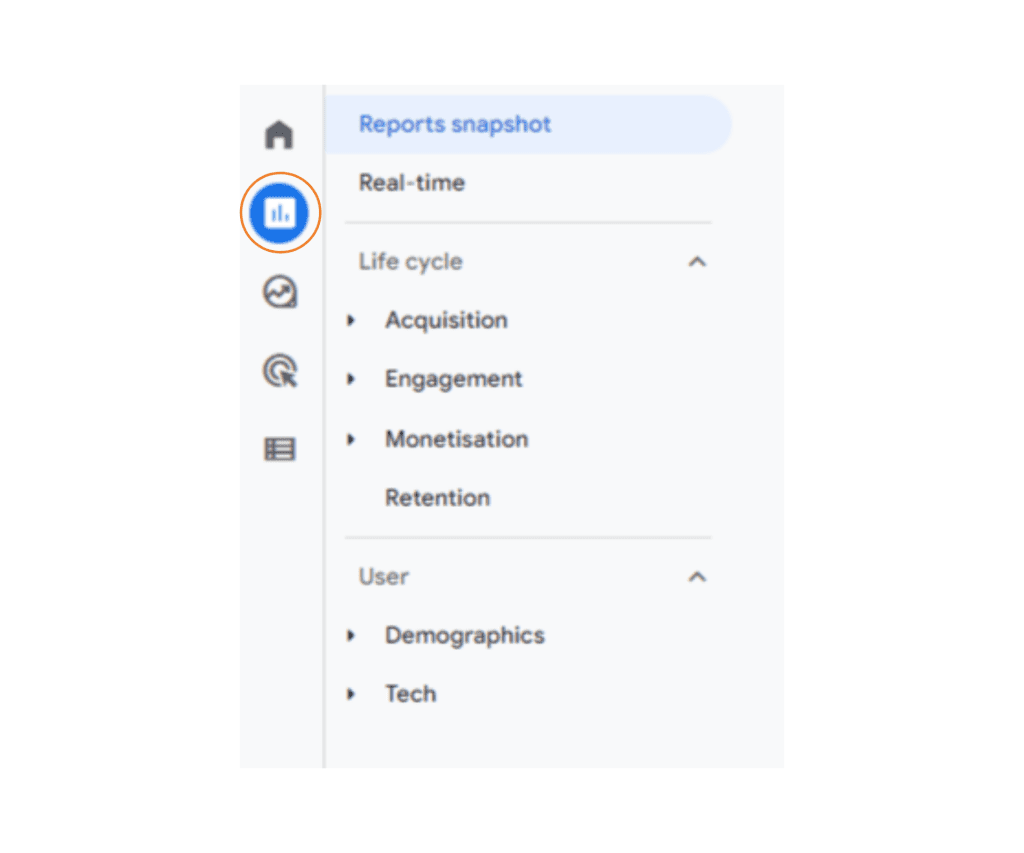 3. Click Realtime
You will then see the users in real-time reports in your GA4 (Google Analytics 4) account. Also, you can see the data in events, page titles, and audiences.
Want to get started with GA4? Sign up for our newsletter, and we'll send you a step-by-step guide on how to integrate GA4 with Shopify. Plus, you'll receive updates on the latest tips, tricks, and trends in digital marketing. Thanks for reading!